2013 Moore Tornado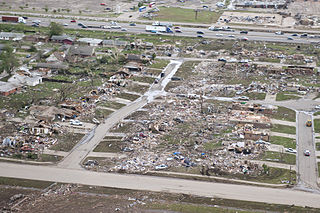 The 2013 Moore Tornado was a highly powerful and very large EF5 tornado the ravaged the North American city of Moore, Oklahoma, along with its adjacent areas on the afternoon of May 20, 2013.
The peak wind speed was estimated at 340 km/h (210 mph). There were 24 deaths along with two indirect fatalities and over 212 people injured. The government estimated that the damage caused by the tornado was about $2 billion.
Quick Facts
| | |
| --- | --- |
| Formed | May 20, 2013, 2:56 p.m. CDT (UTC−05:00) |
| Dissipated | May 20, 2013, 3:33 p.m. CDT (UTC−05:00) |
| Duration | 37 minutes |
| Max rating | EF5 tornado |
| Highest winds | 210 mph (340 km/h) |
| Maximum Width | 1.30 miles (2.1 km) |
| Damage | $2 billion (estimate) |
| Total fatalities | 24 fatalities (+2 indirect), 212 injuries |
| Areas affected | McClain and Cleveland counties in Oklahoma; particularly the city of Moore |
Synopsis
According to the researchers, the 2013 Moore tornado was part of a huge weather system, producing numerous other tornadoes over the Great Plains in the last couple of days. The same weather system also created five tornados which struck Central Oklahoma areas prior to May 19.
The tornado touched ground in the northwest of Newcastle. It travelled for 17 miles in a span of 37 minutes. The path crossed through the heavily populated section of Moore City. The width of the tornado at its peak was 2.1km. Its track was almost similar in severity and size to that of the 1999 deadlier Bridge Creek-Moore Tornado. Unfortunately, none of the stricken schools and only few homes in the region had developed the storm shelters even after the earlier tornado.
Impact and Aftermath
According to Oklahoma Dept. of Emergency Management, there were 25 deaths caused by the storm and another death which is indirectly attributed to it. Over 1150 homes had been damaged worth over $2 billion. The official number of people reported injured was 377. Houses in the city were flattened and the entire subdivision had been obliterated. Most of the neighborhood west of Moor Medical Center had been destroyed. According to eye witnesses, the tornado resembled more of a 'giant black destruction wall' rather than any typical twister. The two public schools: Plaza Towers Elementary School & Briarwood Elementary School was one of the hardest hit areas.
It was estimated by the Oklahoma Insurance Dept. that the insurance claims expected for the mass damage caused was likely to be over $1 billion. Moreover, some meteorologists were of the opinion that the energy that the storm had released was probably 8-600 times greater than the impact caused by the atomic bomb dropping over Hiroshima.
Aftermath the tornado, urban search & rescue teams had been deployed to tornado hit regions by the Federal Emergency Mgt. Agency to provide rescue efforts along with Oklahoma National Guard. This tornado being among the deadliest has struck terror in the minds of those who have survived.
Pictures