Joplin Tornado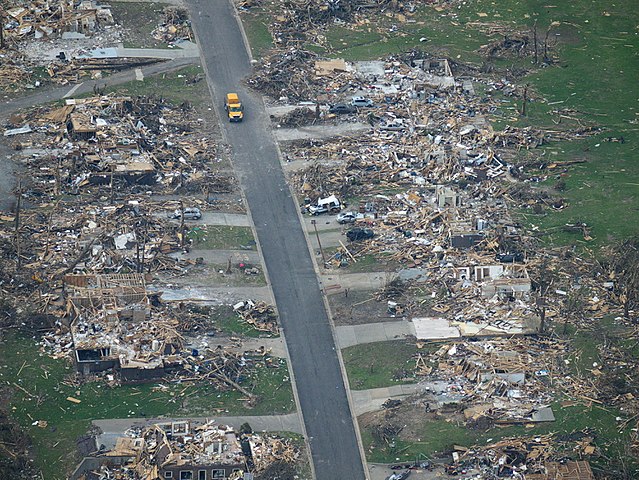 The Joplin Tornado was a catastrophic EF5 tornado that struck Joplin, Missouri in the late afternoon of Sunday, May 22, 2011. This tornado is one of the deadliest in the U.S. since the April 9, 1947 tornado in Woodward, Oklahoma and the seventh-deadliest in U.S. history. It was the second F5/EF5 tornado in Missouri history since 1950. It also holds the record of the costliest tornado in recent history with damage and insurance payout amounting to an estimated $2.8 billion in 2011 US dollars.
Quick Facts
| | |
| --- | --- |
| Formed | May 22, 2011, 5:34 p.m. CDT (UTC−05:00) |
| Dissipated | May 22, 2011, 6:12 p.m. CDT (UTC–05:00) |
| Duration | 38 minutes |
| Max Rating | EF5 tornado |
| Highest Winds | > 200 mph (320 km/h) |
| Maximum Width | 0.99 miles (1.6 km) |
| Damage | $2.8 billion (2011 USD), $3.05 billion (2018 USD) |
| Total Fatalities | 158 direct fatalities (+3 indirect), 1,150 injuries |
| Areas Affected | Jasper County and Newton County, Missouri; mostly the city of Joplin |
Synopsis
On May 22nd, a ¾-mile-wide twister tore through Joplin, leaving 22.1 miles long trace on the ground. It lasted an estimated 38 minutes from start to finish. It ripped through the Missouri city of Joplin with winds more than 200 miles per hour (320 km/h), killing 158 people, injuring 1,150 and tearing apart buildings and neighborhoods. Scientists categorize this tornado as a unique and rare multivortex one.
The Tornado affected a third of the city in terms of square footage and area. Besides the 161 lives lost more than 7,500 residences were damaged or destroyed by the storm, of those, more than half were completely destroyed leaving 9,200 people displaced from their homes. Entire neighborhoods were wiped out in some areas, leaving nothing but debris. It affected 5,000 employees and 500 business and generated more than 3 million cubic yards of debris. Besides houses, businesses like Walmart Supercenter, Pizza Hut and an Academy Sports and Outdoors were destroyed too. In this area, in particular, there were missing manhole covers and the pavement was scoured out in places, which indicates of more than 200 mph winds. The Joplin High School and St. John`s Regional Medical Center was damaged and had to be demolished. The tornado also struck two fire stations, No.2 and No.4, both were completely destroyed. More than 15,000 vehicles including vans, buses, and semis were crushed beyond recognition or tossed up several blocks away and some owners never found their vehicles. On top of all this, beautiful city parks, transportation infrastructure including streets, sidewalks, lights, signals, and signs were also demolished.
The actual cost of the Joplin tornado, from information provided by the Missouri Department of Insurance, Financial Institutions and Professional Registration, was calculated to be $2.8 billion. In this calculations are included all the commercial and residential property affected, the demolition of condemned properties and the disposal of the three million cubic yards of residential debris.
Recovery
With the help from more than a dozen Federal agencies, federal and state disaster assistance, as well as Federal Emergency Management Agency (FEMA), Department of Housing and Urban Development (HUD) and HUD's Community Development Block Grant program together with donations from all over the world led to repairing and rebuilding hundreds of homes and apartments. By September 2014 all of the destroyed elementary schools, as well as Joplin High School, had been returned to permanent facilities. The Mercy Hospital Joplin was also rebuilt and opened its doors in March 2015 and in 2017 the Kansas City University of Medicine and Biosciences College of Osteopathic Medicine was also opened.
Pictures