Daulatpur Saturia Tornado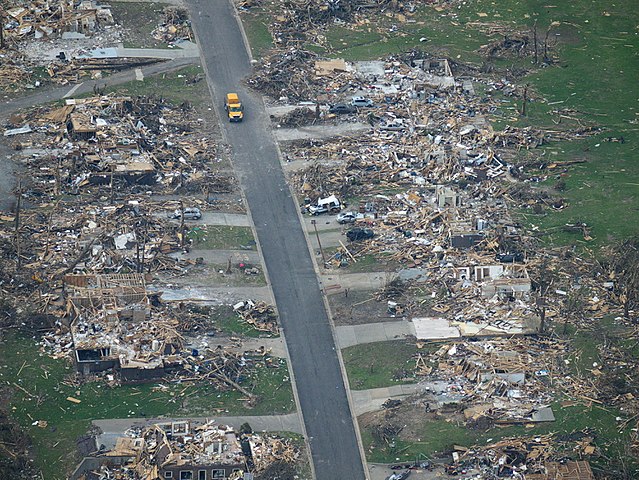 The Daulatpur-Saturia tornado was one of the strongest tornado that struck the Manikganj district in Bangladesh on April 26, 1989. It is considered to be the costliest tornado to strike Bangladesh and the deadliest in history.
Some estimates categorized this torndo as EF-5 - with wind speed over 200 mph. According to official estimates the death toll was about 1,300 and with total damage amounting to around $1.5 million.
Quick Facts
| | |
| --- | --- |
| Formed | April 26, 1989 18:30 (local time) |
| Max Rating | EF5 tornado |
| Highest Winds | > 200 mph (320 km/h), est. |
| Maximum Width | 0.93 miles (1.5 km) |
| Damage | $1.5 million |
| Total Fatalities | 1,300 direct fatalities (est), 12,000 injuries (est) |
| Areas Affected | Manikganj District, Dhaka, Bangladesh |
Synopsis
On April 26, 1989, at 18:30 local time,
Bangladesh is considered to be the 3rd country in terms of highest tornado frequency, just next to the U.S. and Canada, Although the country had been struck numerous time with deadly tornados, it is the Daulatpur-Saturia tornado that is regarded to be the worst ever to strike in its entire recorded history.
However, eye witnesses claim this number to be much more, thus making it to be the deadliest tornado to be experienced in recorded history. The cities of Saturia and Daulatpur were the worst hit. Prior to the tornado, the region had witnessed drought for over six months, due to generating tornadic conditions. In an ironic twist, this tornado developed and struck the region just after President Muhamad Ershad had requested the nation to do prayers for rain.
The tornado was spotted first at around 6:30pm local time, where most of the fatalities occurred. With limited information about the tornado, because of isolated and rural nature of this event, it is regarded to be part of the outbreak causing death to another 5 people and injuring over 500. There were extensive damages caused in the region, with almost every home in the path of the tornado getting completely destroyed and countless of trees uprooted.
Impact & aftermath
Once the storm hit, the devastation was found to be complete such that there were found no infrastructure signs except few skeletons of trees. The width of this tornado is described to be around 1 mile (1.5 km) wide, with a path of 50 miles (80 km) in length, crossing the slums and poor areas of Bangladesh. According to reports, over 80,000 became homeless, while 12,000 got injured. The tornado as per official reports completely devastated the region of Manikganj and Saturia. The estimated damages caused by this tornado were put at around $1.5 million.
Although the tornado occurred for a very short period of time, its impact was very intense, powerful enough to destroy over 20 villages, damaging homes, livestock and rendering people homeless. The landscape was also pummeled with hail and rain, threatening the few crops that had survived the drought, which preceded the tornado. It was after this tornado that Central Bangladesh became victim to disease and hunger, with the government seeking international medical and food assistance.
The severity of this tornado was intensefied due to the poor construction standards, high density of population and poverty in the region. According to studies, the poor are found to be less healthy and not in a position to escape the oncoming natural disasters. Also, they are compelled to take up shelters in places that are very much vulnerable to those powerful forces of nature. Besides this, there is lack of adequate resources for dealing with the aftermath of the disaster of this mammoth scale.
Pictures