F5 Tornado - Fujita Scale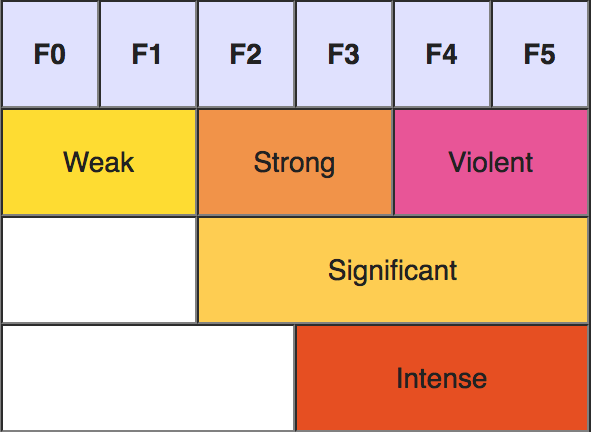 Learn more about f5 tornadoes using the below resources. You many use any of this information on your website as long as you link back to the original source. If you have any questions or notice any factual errors please contact us.
F5 Tornado Facts
Below are some basic F5 Tornado facts...
Notable F5 Tornadoes
F5 Tornado Damage Example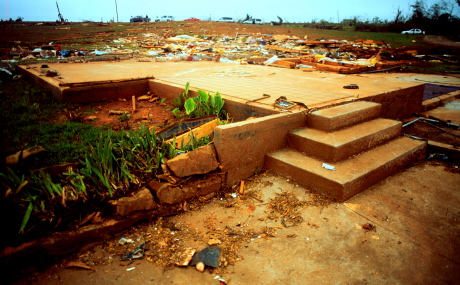 F5 Tornado Pictures
Below are funnel pictures of some F5 tornadoes going back as far as 1957. Tornadoes after 2007 are rated on the enhanched fujita scale. With the new scale, an F5 would now be rated an EF5.
Fargo Tornado - 06/20/1957
The Fargo tornado occured on June 20th, 1957 in Fargo, North Dakota and lasted an hour. It killed 10 people and caused $25.9 million in damage (1957 USD).
Topkea Kansas Tornado - 06/08/1966
The Topkea Kansas tornado occured on June 8th, 1966 in Topkea, Kansas and lasted about 34 minutes. It killed 17 people and caused >$200 million in damage (1966 USD).
Tracy Tornado - 06/13/1968
The Tracy tornado occured on June 13th, 1968 in Tracy, Minnesota. It killed 9 people and caused $43 million in damage (2006 USD).
Xenia Tornado - 04/03/1974
The Xenia tornado occured on March 3rd, 1974 in Xenia, Ohio. It killed 33 people and caused $471 million in damage (2013 USD).
Chandler Lake Wilson Tornado - 06/16/1992
The Chandler Lake Wilson tornado occured on June 16th, 1992 in Chandler, Minnesota and last over an hour. It killed 1 person and caused $50 million in damage (1992 USD?).
Oakfield Tornado - 07/18/1996
The Oakfield tornado occured on July 18th, 1996 in Oakfield, Wisconsin. No one was killed 9 and it caused $40 million in damage (1996 USD).
Bridge Creek-Moore Tornado - 05/03/1999
The Bridge Creek-Moore tornado occured on May 3rd, 1999 around the Oklahoma City area and lasted over an hour. It killed 36 people and caused $50 million in damage (1992 USD).